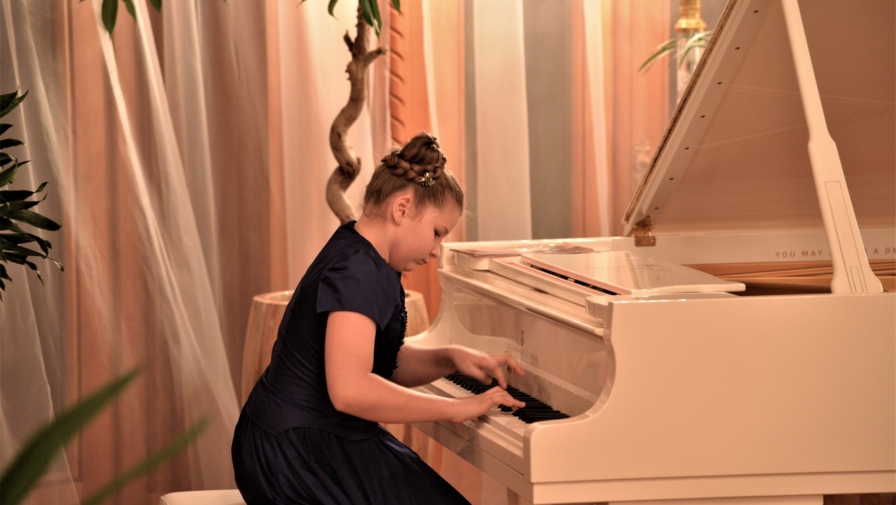 A concert by students of Lysenko Kyiv Secondary Specialized Boarding School "CHILDREN ARE UKRAINE'S REAL TREASURE!" was held at Mezhyhirya National Park (in the building of Honka) on the eve of the 175th anniversary of the birth of famous Ukrainian composer, founder of the Ukrainian children's music school and Conservatory Mykola Lysenko.
According to the concept of developing the territory of Mezhyhirya National Park, our team is trying to do its best for luxury items left after the fleeing of Viktor Yanukovych to serve the interests of the Ukrainian society, and especially those of children, education and culture of the nation. Talented young Ukrainian musicians were able to play the unique grand piano The Imagine series Limited Edition, Steinway&Sons, in Honka. The invited guests enjoyed unsurpassed concert of talented young performers, winners of international competitions: Khrystyna Mykhailichenko, Markiyan Kryssa, Kenta Igarashi, Edgar Vilcans, Marharita Pochebut, Oleksandra Khmara, Mariya Dyk, Svitlana Klinkova.
Unfortunately, to be sure, state support for the Ukrainian culture is in poor condition. The music and its students need support, which is why with this concert we begin a series of charity events with the participation of young musicians and in their favor. Also, we call everyone who is ready to help children for cooperation.
Children who dedicate their lives to Ukrainian music.
Children who represent Ukraine at the world's best venues.
Children whose art creates our future in Ukraine.
M.V. Lysenko:
"Rhythm is a heart of motif! The one who begins to understand music will understand the human soul!"
"… Having learned the science about music from a German in Leipzig Conservatorium and having come back home, and started to work on best practices with the help of this science not Germanizing or Russifying my songs … Perhaps, I was under the influence of foreign science for some time and then I grasped my own way and clearly drew the line between what was mine and what was not."
"We need school, we need it right now. The school that would have people's native foundations. Otherwise it will bring – like everything we have – a pale color with foreign blush."